Joint Welcome Note from the Chair and Vice Chair of the Bereavement Network Europe.
Bereavement Network Europe (in short BNE) is now being launched as a formal membership organization.
A European Movement Europe, with all its linguistic and cultural diversity, has a lot to offer with respect to understanding and supporting bereavement. Researchers and practitioners have developed theoretical and support models which have progressed, and continue to progress, formal knowledge about grief and its consequences.
We aim to promote a European focus by providing a platform to:
Connect researchers and practitioners in European countries to engage in learning and exchange
Identify gaps in our scientific understanding of grief
Accommodate diversity
Ensure that bereavement is reflected in policy, research and education agendas across Europe
A Pyramid Model Of Grief And Bereavement Support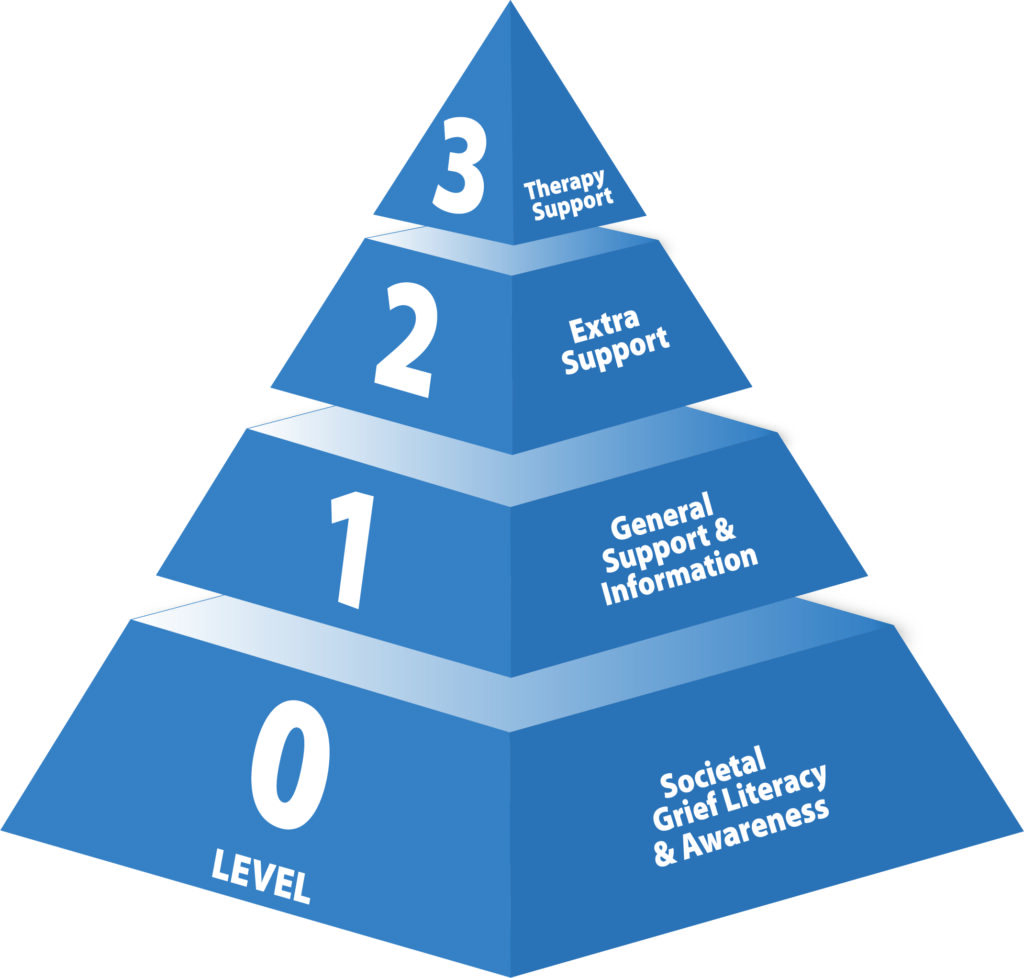 We adopt a public health model for bereavement which is illustrated as a pyramid. It views bereavement as a natural life event, however one which we have increasingly become removed from, as societies and individuals.
Hence public education about grief empowers individuals, communities and formal social structures to better understand bereavement and to better support each other (Level 0). This is the basis of the public health model.
The public health model next considers accurate information, support from family, social and care networks as the first level of bereavement support (Level 1).
A range of identifiable risk factors mean some bereaved people will benefit from more organized support, for example, peer-led groups, pscyho-education in community settings (Level 2).
Smaller proportions of bereaved people with additional stressors and disruptions to their grief will require specialist therapeutic responses (Level 3).
The Bereavement Network Europe (re)-launch
Over the past two years a Pan-European group of people have worked, on a voluntary basis, to prepare BNE for a (re)-launch. We are still in the midst of a global Covid-19 pandemic with real implications for bereavement. We predict an unprecedented need for bereavement care responses and services; therefore sharing professional knowledge across the grief and bereavement sectors in Europe is essential.
Bereavement Network Europe is now being launched as a formal membership organization that stands on the following vision and mission:
BNE is a broad-based collaboration of organizations, professionals, and volunteers from nations across Europe that works to improve support and understanding for bereaved people.
Our vision is that there should be a Europe-wide culture of compassion and provision of excellent support for bereaved people.
We invite professionals to become members to work together towards the collective purpose of sharing knowledge, building competence, and increasing political focus on grief and bereavement at national and European levels.
Kind Regards
Heidi Muller (GE) & Sacha Richardson (UK)